;
ESCRS Wins Award for Website Excellence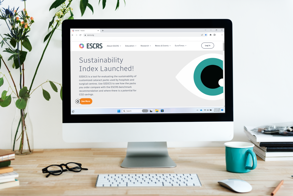 ESCRS has been honoured for the quality and usability of its website, beating out sites from seven other organisations to win the "Best Website or App" category at the Memcom 2023 Excellence Awards.
Other finalists for the award included the British Psychological Society, the Royal College of General Practitioners, and the Chartered Institute of Patent Attorneys.
"A good user experience is critical for ESCRS as we seek to grow our membership and cement our role as a leader in the ophthalmic community," says Prof Dr Burkhard Dick, chair of the ESCRS General Purposes Committee. "This award is proof we are delivering that experience."
The ESCRS website has added several new features since its redesign last year, including a tool for evaluating the sustainability of cataract packs, a tool to compare results from four online toric IOL calculators, a calendar of events and webinars hosted by affiliated national societies, and a global reach map. More new content is expected soon, including clinical guidelines, a patient portal, and an enhanced learning management system.
Latest Articles
;