The MIGS Masterclass aims to offer a comprehensive theoretical and practical MIGS training to well-seasoned cataract surgeons in order to improve glaucoma care and reduce the burden of the disease in our communities.
This Masterclass programme will include the following:
Assignment to a mentor to support questions and provide advice throughout the programme. Participants will be part of a small WhatsApp group with direct access to mentor
Four online modules on:
Introduction to glaucoma and MIGS

Angle surgery using implants

Angle surgery without implants

Subconjunctival and suprachoidal implants
Four interactive webinars with all faculty members and groups, to summarise each module in turn and answer any questions
In-person Half Day wet/dry labs at the Vienna Annual Congress
Each participant who completes all of these components and passes the exam will obtain a certificate of completion and will receive a credit to apply to future ESCRS registration and membership fees. There is no cost to participate in this programme.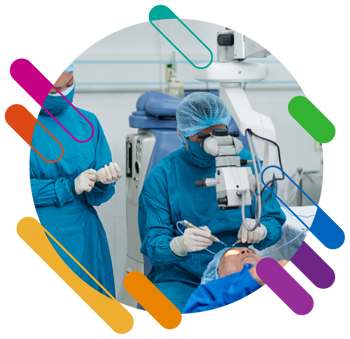 The Masterclass will consist of the following:
An evaluation of the participant's knowledge of:

Glaucoma diagnosis and follow up
Therapeutic options
Type of MIGS and their indications
Expected outcomes and complications after MIGS
The level of confidence and willingness of each participant to adopt MIGS (pre-Masterclass)
This Masterclass is primarily targeted towards Cataract Surgeons who:
have more than 5 years of experience post-training practicing ophthalmology (preferably >1000 cataracts as primary surgeon)
conduct at least 200 cataract surgeries per year
see glaucoma patients
have begun to implant MIGS devices, or are intending to start immediately after this education programme
based in a surgical facility where MIGS devices are available
Applications are submitted through the MIGS Masterclass online application form and should include a detailed CV.
Applications are reviewed by the Masterclass Mentors. Priority will be given to surgeons who best fit the targeted audience parameters identified above
MIGS Masterclass - Mentors
Ike Ahmed
Ahmad Aref
Wallace Alward
Phillip Bloom
Teresa Chen
Deepak Edwards
Davinder Grover
Hans G. Lemij
Jose Martinex de la Casa
Imran Masood
Gok Ratnarajan
David Sola Valle
Paul Singh
Tarek Shaarawy