;
Leadership, Business & Innovation
Learning From the Experience of Others
Business skills can help young ophthalmologists make better practice decisions.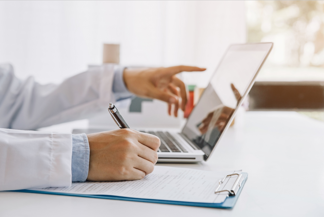 After years of intensive clinical training, it wasn't until the last few months of her fellowship that Dr Artemis Matsou devoted much thought to moving from training into practice.
"All these questions suddenly came to mind: Do I want to go private? Do I want to stay in the public sector?" Dr Matsou said. And she realised she was ill-prepared to make a decision that would profoundly affect her career—and her private life.
Dr Matsou is not alone. As well prepared as surgeons are clinically, most have no training for the business challenges they will confront as they move into practice, she said in the Leadership and Business Innovation programme at the 2023 ESCRS Congress in Vienna.
As a result, management-related stress often replaces clinical work stress, even in public systems. Business tasks physician leaders routinely face include managing finances to increase revenues and reduce costs, managing supplies and supply chains, making business cases for new equipment or services, and constantly negotiating with operational managers, financial managers, and other hospital departments.
"These things were unknown to me until I got to the senior role I have," Dr Matsou said. She has since learned much more about the business of medicine. While she successfully transitioned to a consultant role in a public hospital, she now plans to focus on a niche practice she believes will advance her career and professional and personal interests.
Noting it is easier to learn from the experience of others than from your own mistakes, Dr Matsou outlined business-related skills medical schools and postgraduate training ought to teach. But while few formal curricula currently include these skills, seminars, conferences, and business courses can fill in many of the gaps.
And it is not just about money, Dr Matsou emphasised. "We can offer better care to our patients by incorporating those business principles in our practice. Doctors are probably the best to marry clinical quality of care with an efficient, well-run, and profitable practice."
Developing leadership skills
Surgeons interested in private practice should keep in mind they will need to act as the CEO and develop the leadership and management skills to do so. Dr Matsou recommended training classes, conferences, and leadership skill-building retreats, which are common in other professions.
Residency and fellowship programmes should incorporate business training through hands-on experience, observation, and visiting other institutions and private practices. Collaboration with administrators and medical directors should be encouraged to infuse their perspective and challenges, such as managing limited budgets, she added.
She encouraged young ophthalmologists to take a proactive approach by asking questions, seeking insights, and exploring solutions to learn from the experiences of others. "If you learn from other people's mistakes, you learn much faster—you don't have to make all those mistakes yourself."
Among the specific skills, Dr Matsou advised cultivating:
Financial planning – Learning how to allocate resources wisely and budget for practice growth is essential. Dr Matsou recommended thinking about this early, especially when considering private practice, which requires significant money, research, planning, and lead time.
Continuous learning and networking – Staying up to date on clinical skills and industry trends is critical. Dr Matsou recommended attending conferences and workshops and joining professional organisations. Seek mentoring and network to build connections and observe and learn from other practitioners, she said.
Contract negotiation – Learning, then practising, effective negotiating skills is an everyday competency—especially when considering contracts. Always check terms to ensure they are suitable, seeking legal advice when needed.
Time management – Mastering how to prioritise tasks and delegate—and using tools for efficient scheduling—go a long way towards heading off the frustration of trying to do everything alone and avoiding burnout.
Marketing and patient acquisition – Establishing an online presence and providing excellent patient experiences are crucial for building a practice. Dr Matsou noted many doctors undersell themselves in interviews and in public. "We aren't very good at marketing ourselves."
Other questions to consider before making a practice decision include whether there is a market for the services planned for the chosen area, the qualities valued in potential colleagues or partners, and how family situations fit into career plans.
Above all, make a plan and have a long-term vision, Dr Matsou advised. "We've thought about where we want to be in five years' time; it should be 10- or 15-years' time. And very importantly, incorporate your personal life as well."
Artemis Matsou MD, FEBO, MRCP(UK) is a consultant ophthalmic surgeon at Queen Victoria Hospital, East Grinstead, UK. art.matsou@gmail.com
Latest Articles
;