CAIRS Gaining Momentum
Procedure offers a safe alternative to DALK.
Corneal Allogenic Intrastromal Ring Segment or CAIRS refers to the use of any form of allogenic tissue—fresh, preserved, processed donor stroma, or any other alternate allogenic source placed within intrastromal corneal channels.
I started this technique in 2015 as a solution to complications seen with synthetic intracorneal ring segment (ICRS) implantation, such as extrusions and melts. I was pleasantly surprised to see that CAIRS's other advantages include low risks even with superficial implantation and smaller optic zone, better effect, lower risk of glare and halos, and the possibility of implanting in advanced keratoconus (steeper than 58 D and thinner than 400–450 microns in implantation zone). In addition, synthetic ICRS—even when implanted in an optimal candidate—can, with time, result in overlying corneal melt if continued stromal thinning occurs secondary to progression or eye rubbing. Since CAIRS is allogenic, it becomes part of the host cornea and does not carry this risk.
CAIRS GOES GLOBAL
CAIRS has gained momentum worldwide, with cases conducted in multiple centres in the US, Canada, Australia, Germany, France, Ireland, Lebanon, Turkey, Israel, South Africa, Dominican Republic, and multiple centres in India. An easy technique to prepare CAIRS is to use a special double-bladed trephine (Jacob CAIRS trephine™ [patent pending], Madhu Instruments, India) to punch a de-epithelialised and de-endothelialised donor corneoscleral rim. This gives a ring of stroma that can then be easily cut to the desired length and inserted into a circular femtosecond laser dissected or manually cut channel within the patient's cornea.
CAIRS can be easily cut by the surgeon with no risk of tissue loss, unlike DMEK. CAIRS is also available from eye banks such as the Alabama Eye Bank, which offers pre-cut segments as well as processed segments. It is, of course, ideal to use optical-grade cornea for CAIRS, but if unavailable, non-optical-grade cornea may suffice if the cornea is not oedematous.
As I have described, customised CAIRS is the latest modification where the segment can be customised to get differential flattening according to individual topography. This helps further optimise results and is especially beneficial in asymmetric keratoconus. It is like progressive thickness synthetic ICRS but with added advantages of greater customisation.
On-the-table customisation offers the advantage of not needing to depend on fixed thickness and arc length combinations. It also negates the need to maintain large inventories, unlike customised synthetic ICRS. Using a degree-zone marker (Jacob degree-zone marker™, Epsilon Eye instruments, US), the surgeon or eye bank can easily create customised CAIRS.
Drawn on a topographical map with the patient's refraction and topography, plans are then translated to the CAIRS using the degree-zone marker. Customisation is based on the principle that placing a thicker portion of CAIRS under a steeper area gives greater flattening than placing a thinner segment, which makes tailoring the individual topography easier to improve (please see video link).
Various other modifications have now been proposed for CAIRS by different users from around the world. Jack Parker MD (US) has described staining CAIRS with trypan blue and dehydrating it before insertion. Shady Awwad MD (Lebanon) has described the "Jerky Technique", where prolonged dehydration for 60 minutes in a room with 35–50% humidity results in a jerky-like stiffness to the CAIRS, thereby allowing it to be held by a forceps and inserted into the tunnel— much like an INTACS.
I also use a technique of staining the Bowman's membrane side of the CAIRS, which enables me to implant the thicker and stiffer side towards the pupil while also helping identify and rectify CAIRS twisting during implantation. My team and I have also performed other modifications, such as using cross-linked CAIRS, riboflavin-soaked CAIRS, and instilling riboflavin into the channel.
Our initial experience and pilot study were published in the Journal of Refractive Surgery, and since then, we have done more than 350 cases. The large majority were with simultaneous epithelium- off accelerated corneal cross-linking (CXL) protocol (10 mW/cm2, 9 min). The total number of cases globally is significantly higher.
CAIRS has been used for treatment of progressive (TG-PRK) and non-progressive keratoconus, cross-linked ectatic corneas, post-LASIK ectasia, and pellucid marginal degeneration. Implantation patterns are well-defined, and surgeons can counsel patients confidently to expect a high chance of improvement in both uncorrected and best spectacle corrected distance visual acuity.
Even up to a year later (in my experience), reversibility and adjustability remain an advantage, as well as easy combination with cross-linking at the same stage. It also doesn't take away the ability to perform other adjunct procedures such as topography-guided PRK (TG-PRK), phakic IOL, and refractive lens exchange.
Implanting CAIRS first creates synergy by reducing irregular astigmatism and improving corneal topography so surgeons can minimise tissue removal with TG-PRK and obtain better results with intraocular lens-based procedures. CAIRS is a good substitute for deep anterior lamellar keratoplasty (DALK) in many cases. In combination with thin-cornea cross-linking techniques, it can help delay and/or avoid a DALK completely. CAIRS has an easy learning curve, performed easily even by surgeons not trained in DALK. It also removes risks of intra- and postoperative complications associated with DALK.
The risk of rejection, though theoretically present, has not been significant in my experience. A combined case series between my team and Dr Parker's yielded just one case (about 0.25% incidence) as compared to a higher rate of 14–64% reported after DALK. In addition, unlike DALK and other more recent stromal additive procedures, the visual axis remains untouched in CAIRS, making it safe even in the rare possibility of a rejection.
To conclude, CAIRS is gaining momentum around the world with not just increasing surgeon interest in learning and adopting this technique but also increased traction among keratoconic patients—who are generally well read about their disease and aware of advantages and disadvantages of various procedures. My hospital has an increasing number of patients walking in seeking CAIRS. That said, CAIRS is not a panacea for all keratoconic patients. Very advanced cases—those with visual axis scarring and those without sufficient corneal thickness even for thin-cornea cross-linking techniques—would still need other procedures such as DALK.
Dr Jacob presented an update on CAIRS at the Cornea Subspecialty Day during ASCRS 2022 in Washington, DC, US.
Dr Soosan Jacob is Director and Chief of Dr Agarwal's Refractive and Cornea Foundation at Dr Agarwal's Eye Hospital, Chennai, India, and can be reached at dr_soosanj@hotmail.com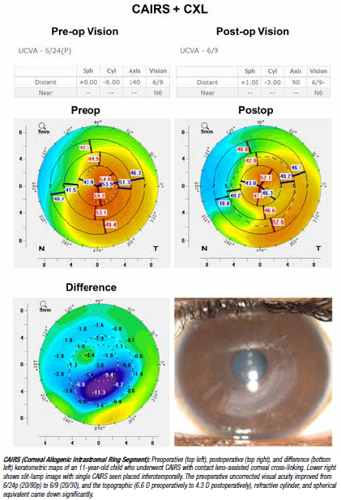 Authors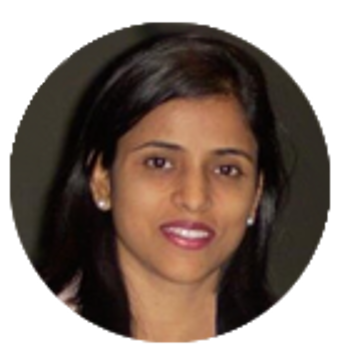 Soosan Jacob
Published
Friday, September 30, 2022
Category
Cornea