;
Refractive, Refractive Surgery
Best of Both Worlds
Stromal lenticule extraction, implantation expand refractive options

Since the first stromal lenticule extraction more than a decade ago, the procedure has grown in popularity, and is now one of the most widely used corneal refractive procedures to correct myopia. Conversely, stromal lenticule implantation also shows promise for indications including hyperopia, astigmatism, presbyopia, and keratoconus.
Speaking at the ESCRS Winter Meeting in Vilamoura, Dr Mario Nubile provided a broad overview of the technology. Stromal lenticule extraction has evolved through several iterations from femtosecond lenticule extraction (FLEx), in which the VisuMax® (Carl Zeiss Meditec) femtosecond laser created a flap and cut out an underlying stromal lenticule, to the more recent small incision lenticule extraction (SMILE, Carl Zeiss Meditec), with the stromal lenticule extracted through a small 2.0 to 4.0 mm corneal incision without the need for a flap.
Until recently, he added, it has been difficult to draw any meaningful conclusions in comparing lenticule extraction to the gold standard of femtosecond LASIK and corneal lenticule extraction procedures.
"That picture has now changed greatly. We now have more than 750 publications on lenticular extraction from all over the world," he said. "Many comparative studies and meta-analyses have demonstrated the efficacy, predictability, and safety outcomes of SMILE for the treatment of myopia are comparable to those of both LASIK and femtosecond LASIK."
Both LASIK and refractive lenticule extraction are safe and effective procedures with their own advantages and drawbacks. SMILE may also have a slight edge over LASIK in treating high myopia.
"Unlike a LASIK procedure where tissue is being ablated, there is no great difference with a lenticule extraction to treat -10.0 D of myopia compared to a patient with -1.0 D of myopia," he said. The energy delivery to the stroma is the same."
SMILE also offers more rapid postoperative visual rehabilitation and a possible reduction of dry eye sensation, as fewer corneal nerves are cut during surgery than excimer laser ablation.
"We see some variability in the results in the literature for SMILE due to issues of centration and cyclotorsion control, as well as astigmatic correction and coma aberration," Dr Nubile noted. "Many of these issues have since been resolved with the second-generation platforms that are now available."
Another recent development has been the addition of other laser platforms offering lenticule extraction procedures for refractive correction—both Schwind and Ziemer received European Union CE mark approval in 2020 for treating myopia and astigmatism.
"It is nice to have these different platforms because each has its characteristics and features that improve some aspects of the treatment," he said. "And the enhanced competition will probably also facilitate further growth of the technology worldwide."
Full circle
While SMILE and related procedures involve the removal of the lenticule, several procedures now under investigation go the other direction—implanting a lenticule. The femtosecond laser has made it possible to precisely dissect stromal lenticules in which keratocyte viability and collagen structural integrity are maintained, even after cryopreservation, and therefore opened the door for the development of a variety of therapeutic applications using human tissue for intrastromal implantation.
"There is a big push towards investigating procedures using tissue from donor corneas and living patients. And in the near future, there is the chance that we will have lenticule banking as a valuable resource of tissue, now wasted in our refractive procedures," said Dr Nubile at a presentation during the 40th ESCRS Congress in Milan.
Intrastromal implantation of a human lenticule for treating hyperopia was first done in 2014 with expectations the procedure would have better stability, less regression, fewer aberrations, and less postoperative dry eye than LASIK for correcting moderate hyperopia. Although several studies demonstrate its feasibility and safety, implanting cryopreserved tissue in heterologous patients, the results also show the remaining need for improving refractive predictability, Dr Nubile said.
Stromal keratophakia for keratoconus
Intrastromal lenticule implantation shows promise for treating corneal ectatic disease. Within this field, researchers are investigating several approaches, including implantation of planar lenticules, ring segments (Cornea Allogenic Intrastromal Ring Segments, CAIRS), negative meniscus lenticules (Stromal Lenticule Addition Keratoplasty, SLAK), doughnut-shaped lenticules, and Bowman's layer.
"Each technique has its potential applications, advantages, and disadvantages," Dr Nubile said. "So far, none has shown superiority compared to others, and we are still working to understand what the best shape implant is to use."
Under development at the University Gabriele d' Annunzio of Chieti Pescara under the direction of Dr Nubile and Dr Leonardo Mastropasqua is the implantation of a lenticule thinner in the centre and thicker in the periphery, implanted at approximately 130 μm depth to treat keratoconus with central cones. It has been shown to have excellent biocompatibility and improve spherical equivalent and both uncorrected and best-corrected visual acuity in moderate to advanced keratoconus.
"There is also an increase in epithelial thickness favoured by the keratoconus flattening, which allows for better contact lens tolerance, and stromal thickness increases even more than expected because of keratocyte activity inducing fibrosis," Dr Nubile said. "The combination of epithelial and stromal thickening leads to significantly increased corneal thickness, which can allow a cross-linking procedure in a patient who previously was not a candidate because of a thin cornea."
Confocal microscopy studies show a mild wound healing reaction, stable interface reflectivity, and near absence of immune stromal rejection, which could be improved using decellularised lenticules.
Lenticule implantation to address eccentric keratoco­nus remains a big challenge since the femtosecond laser technology needed to create the customised lenticule profiles is not yet available but under investigation. Lenticule customisation is possible with an excimer laser, but using two different instruments for the proce­dure makes it more complicated and less appealing.
He noted while the CAIRS technique has shown very good biocompatibility, the inability to sculpt the ring segments precisely has limited its predictability.
Correction of presbyopia is another application for intrastromal implantation of human lenticules. Using tissue from SMILE, the PrEsbyopic Allogenic Refrac­tive Lenticule (PEARL) technique—developed by Dr Soosan Jacob—is one such approach that improves near vision by inducing changes in central corneal power and asphericity.
High-mixed astigmatism continues to challenge corneal refractive surgeons. Intrastromal lenticule rota­tion is a potential technique for correcting high-mixed astigmatism. In this procedure, an autologous lenticule is created and rotated 90 degrees to add tissue in the preoperative steep meridian and reduce tissue in the preoperative flat meridian.
The future
Decellularisation of lenticules that removes the source of donor immunity, erases any trace of donor DNA, and leaves only collagen has the benefit of overcoming ethical issues with using human tissue, particularly as it applies to lenticule implantation for refractive surgery proce­dures. It is also the foundation for future applications, including stromal repair and drug delivery.
"Additionally, keratoplasty using a decellularised lenticule enriched with stem cells is an interesting con­cept that may be effective for improving quality of the stroma in eyes where keratocyte activity is impaired, such as in a patient with a history of keratitis," Dr Nubile said.
A newly established international research group will coordinate lenticule implantation research. The group includes Dr Nubile, Dr Leonardo Mastropasqua, Dr Har­minder Singh Dua, Professor Béatrice Cochener-Lamard, Professor Jorge L Alió, Dr Jorge L Alió del Barrio, Dr José L Güell, Dr Jesper Hjordtal, and Dr Jodhbir S Mehta.
Mario Nubile MD, PhD is an ophthalmologist at the Excellence Eye Research Center University Gabriele d' Annunzio of Chieti Pescara, Italy. mario.nubile@unich.it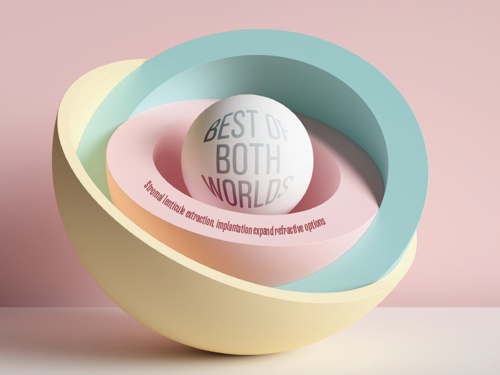 Latest Articles
;