;
Young Ophthalmologists
What is the Future of Ophthalmology Training in Europe?
Shifts from the pandemic and inconsistent training standards make young ophthalmologists feel less than confident.
Clare Quigley
Published: Wednesday, February 22, 2023
Ophthalmology surgical training programmes in Europe are inconsistent across the continent, with general dissatisfaction among trainees and more than a few young ophthalmologists (YOs) feeling unpre­pared to perform surgery.
"There is a lot of dissatisfaction and a lot of discrepancy across European training programmes in ophthalmology," was Dr Vincent Qin's stark assessment during a round­table discussion on postgraduate training available in Europe at the 40th ESCRS Congress in Milan.
Currently, there is no parity in the quality of oph­thalmology training across Europe. As a starting point, training duration varies widely, from as short as two years in countries such as Ukraine to seven years in the United Kingdom and Ireland. There is a general tendency towards longer training duration in western compared to eastern Europe, as shown in a survey published in a 2022 issue of the Eye.i
As well as training duration, opportunities available for cataract surgery training vary considerably. Dr Qin, a con­sultant ophthalmic surgeon in Belgium, highlighted that the minimum number of cataract surgeries stipulated by national training programmes varies from zero to 350 across Europe. Overall, a minority of ophthalmology trainees surveyed reported satisfaction with their surgical training.ii
"The deficient surgical training is reflected in the degree of satisfaction of the participants who responded to the survey," said Dr Miguel González-Andrades, chair of the European Society of Ophthalmology YO section and the corresponding author of the manuscript. "Only 16% were completely or very satisfied with their acquired surgical competences, and 42% indicated they were completely un­satisfied with their surgical competencies."
Young ophthalmologists expressed their concerns at the Milan roundtable event.
"YOs in Europe are mainly concerned about their surgical training, especially after the impact the pandemic had on oph­thalmology services and training," said Dr Artemis Matsou, consultant ophthalmic surgeon in the United Kingdom. "We have had limited access to surgery, and in countries where residency training lasts four years, residents spent at least half of their training with no access to surgery."
Pandemic problems
Inequalities in training access compounded after the pandemic for different reasons, although this should be of limited dura­tion as we learn to live with COVID.
"The lack of face-to-face conferences during the pandemic also meant we did not have access to wet labs and simulation training—which was another big hit in surgical training. This has had a domino effect, as YOs are now finding it more diffi­cult to get into fellowship training due to high competition," Dr Matsou commented.
The core of the problem may be a lack of defined training standards in some European countries.
"It seems [that in some countries] there is no clear struc­ture in YO surgical training. There is wide variation even within the same country," she said. "The majority of YOs don't feel confident to operate independently immediately after their residency. This is just regarding cataract surgery, as nearly no other type of surgery is being taught—other than some basic eyelid procedures and sometimes strabismus."
Possible solutions
So, what is the solution to improve surgical training standards across Europe? International agreement about what constitutes ophthalmology training is a potential starting point.
Dr Matsou suggested guidelines or recommendations on minimum surgical training from a society such as the ESCRS and with agreement from individual national societies as a start. Simulation training, with better access for trainees and more frequent wet labs, would also be valuable. Finally, she proposed increased awareness of fellowship programmes in other countries and more opportunities to apply for bursaries, as self-funded trainees struggle to cover these costs.
Patient safety underlines the urgency of this issue. Within EU member states, doctors—including ophthalmologists— can migrate freely to practise their profession. But when a fully trained ophthalmologist equates to a competent cataract surgeon in one country and an ophthalmologist with no sur­gical experience in another, problems arise.
"It is essential for national governments as well as govern­ing bodies to establish a European training curriculum com­mon to all national teaching committees," Dr González-An­drades said. "It is evident from our data that there is deficient surgical training since a considerable proportion of the respondents are far from achieving the minimum standards set by some of the countries."
A great idea in theory, current ESCRS President Dr Oliver Findl shared the complications of putting it into practice. "I believe it will be very difficult to harmonise surgical training across Europe due to the significant differ­ences in health systems."
As an example, he said the Austrian public health system only funds cataract surgeries performed in public hospi­tals. For this reason, ophthalmologists practicing outside of hospitals—of which there are many—do not perform any surgery but instead comprehensive ophthalmology, medical retina, and other non-surgical subspecialties.
"In the past, I have trained numerous residents in cata­ract surgery, but they then decided to go into practice (for all kinds of reasons), and they never again performed surgery," Dr Findl explained. "To train someone who may never again perform surgery due to the local health system may be seen as unethical since it is well-known that complication rates are highest in the initial, steep part of the learning curve— and patients are the ones exposed. It may also [appear] risky, maybe even unethical, having a young, licensed surgeon perform surgery on their own outside of a hospital setting, having performed (in the best case) 350 cataract pro­cedures during their training. We all know that significantly more surgical experience is necessary to do surgery safely without a more senior backup surgeon."
Surgical and medical split?
Whilst cataract surgery is the bread-and-butter procedure of ophthalmic surgeons, the need for every ophthalmologist to be surgically trained is under question. Recent years have seen a great increase in demand for medical retina specialists, ushered in by the advent of anti-VEGF therapies. An overall ageing of Europe's population has increased the prevalence of age-relat­ed macular degeneration, glaucoma, and cataract.
With this increasing demand for medical ophthalmology services, Dr Yvonne Delaney, Dean of Postgraduate Education at the Irish College of Ophthalmologists, proposes to split ophthalmologist training into medical and surgical streams.
The ESCRS stresses the need for a clear purpose for such a programme: whether it should be so comprehensive as to produce independent cataract surgeons of a sufficiently high standard or a basic training programme preparing doctors for a fellowship in cataract surgery or another subspecialty. The latter option moves away from the assumption all ophthal­mologists must be able to do cataract surgery to be consid­ered a fully qualified ophthalmologist—towards the model proposed by Dr Delaney.
The long-term impact of removing cataract surgery from training centres and university hospitals to the private sector is unknown. What is clear is training opportunities and funding are at risk of significant reduction, creating additional challenges for YOs.
Vincent Qin MD, MBA, MPH, FEBO, SSL. vincent.qin@live.be
Miguel González-Andrades MD, MSc, PhD. mgandrades@gmail.com
Artemis Matsou MD, MRCP(UK), FEBO, PgDip CRS. artmatsou@gmail.com
i–ii Anaya-Alaminos, R., Rassmussen, M.L., Fung, S.S.M. et al. "Comparative analysis of European residency programs: bench­marking and harmonizing ophthalmology training in Europe." Eye (2022). https://doi.org/10.1038/s41433-022-02040-3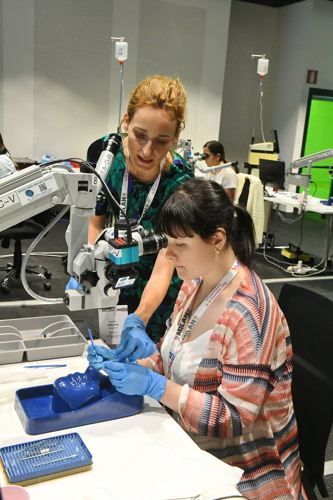 Latest Articles
;