;
Ophthalmology in Conflict Zones
Orbis, the international eyecare charity, returns to the ESCRS this year in Milan, offering a symposium entitled "Innovative Ophthalmology in Conflict Zones", Tuesday at 8:00, Space 1.
Tom Ogilvie-Graham, managing director of the ESCRS, will lead a discussion called "Bringing Medical Aid to Conflict Zones". Dr Ogilvie-Graham will speak from experience, as he visited Ukraine to assess the situation shortly after the Russian military invasion in February. His earlier military career and subsequent work with different medical charities have given him opportunity to visit a number of conflict zones.
Noting that every conflict zone is different, Dr Ogilvie-Graham explained how healthcare systems in these situations are often corrupt—with medical supplies very often ending up in the wrong hands or never reaching the patient. Medical aid is particularly vulnerable to corruption because of its high value.
Dr Ogilvie-Graham connected with Ukrainian ophthalmologists to get an idea of what supplies were most urgently required and where they were most needed.
He notes while supporting big NGOs such as Médecins Sans Frontières and the International Red Cross does provide some safeguards against corruption in a conflict zone, it does not necessarily result in delivering the most needed specialist support into the right hands at the right time.
Indeed, the ESCRS looked at working with international NGOs and the UN to deliver aid but found the process too bureaucratic. Instead, it tapped into a trustworthy network of local support with the invaluable help of Dr Lyubomyr Lytvynchuk and assistance from many others, including Dr Volodymyr Melnyk. This ensured the equitable distribution of the items most needed to the people who would make the best use of them.
Dr Lytvynchuk will also speak at the Orbis symposium on "Ophthalmic care in response to the Ukrainian conflict".
"Feedback from Ukrainian ophthalmic surgeons was essential in identifying what was most needed. The ESCRS was then, right from the start, able to approach our industry partners with specific requests and they responded very generously. Well over a million euros of equipment has been distributed so far," Dr Ogilvie-Graham said.
The symposium features an additional presentation by Robert Walters, Chairman of Orbis in the Middle East, on "Eyecare amongst refugees fleeing from conflict". Also on the programme, Dr Abishek Mehras will discuss "The Pandemic and impact on glaucoma patients".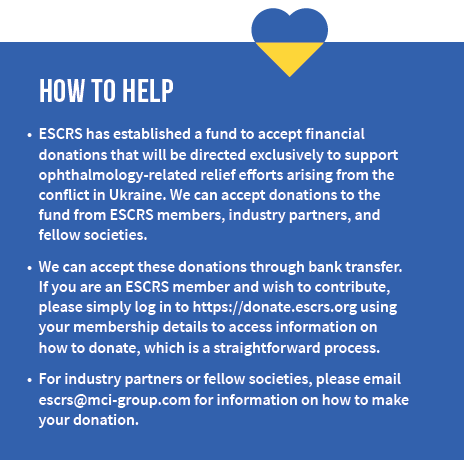 Latest Articles
;