;
Sustainability
Education, Technology Drive Presbyopia-Correcting IOL Acceptance
iNovation Day 2022
Currently, 55% of ESCRS members surveyed either don't implant presbyopia-correcting intraocular lenses (PCIOLs) or implant them in fewer than 5% of eligible patients. But twothirds see their usage increasing in the next year.
Educating patients, surgeons, and staff about PCIOL options as well as improvements in lens, diagnostic, and lens power calculation technology are driving the advance, surgeons and industry representatives said at the inaugural ESCRS iNovation program Friday.
"If you look in the literature, there are about 1.5 billion people with presbyopia, so there is a huge need," said Thomas Kohnen MD, PhD of Germany, who moderated a session on managing presbyopia from early stage to cataracts. Current choices of PCIOLs range from monofocal+ lenses to extended depth of focus lenses to multifocal lenses, each of which offer different advantages and trade-offs.
Raj Rajpal of Johnson + Johnson Vision noted that PCIOL sales have grown to 11% of IOL sales in the European market, compared with about 8% globally. He gave three reasons for the growth. First is growing patient awareness, often driven by word of mouth among a population that may not be active social media users. "Patients are coming in and asking about [PCIOLs]," he said.
Second, surgeons are getting better at all aspects of implanting PCIOLs, including educating patients on the visual trade-offs involved and evaluating post-surgery visual needs. Surgeons are also getting better at managing complications and becoming more confident in making lens power calculations. Younger surgeons also may be more likely to be aware of the range of PCIOL options because they were exposed to them in training, Rajpal said.
Third, the technology has advanced, reducing issues such as night vision problems, Rajpal added. Even so, after cost, night vision issues remain the number-two issue preventing greater uptake, according to latest ESCRS survey.
OVERCOMING OBSTACLES
Gerd U Auffarth MD of Germany believes cost is the major obstacle to greater PCIOL uptake. For a surgeon with a successful monofocal practice, spending more time counselling, evaluating and following up on patients for premium lenses makes no economic sense, especially if their health system does not pay more or allow patient billing. "If they need to work 30% more but they don't get more money for it, they decide to stick with [monofocals]." However, the advent of monofocal+ technology may help bring some of these doctors onboard as they begin to see the patient benefits.
Only one-third of patients are educated or well educated on refractive options at their initial consult, and just over half of surgeons are confident in their ability to educate them on the financial costs. Still, 73% are confident in their ability to educate patients on the trade-offs of PCIOLs, the ESCRS survey found.
Arthur Cummings MD emphasised not only the need to educate patients, but also doctors and staff. If you don't do refractive lenses, refer to someone who does. If you do, make sure every person in the practice knows about the options, and talks positively to patients about them.
User groups are a good place to learn about the finer points of everything from talking to patients to predicting IOL power, Dr Cummings said. "If we have education of the patients and education of the doctors, we will see a huge increase."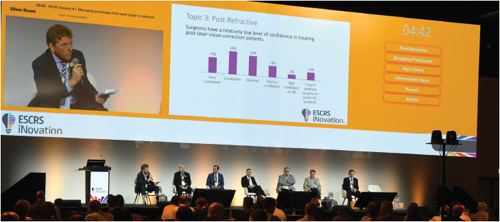 Tags: 40th Congress of the ESCRS
Latest Articles
;