;
Cataract
ESCRS Supports Cataract Project in Nepal
Partnership with Ridley Eye Foundation delivers care in remote mountainous areas.
By Angira Shrestha MD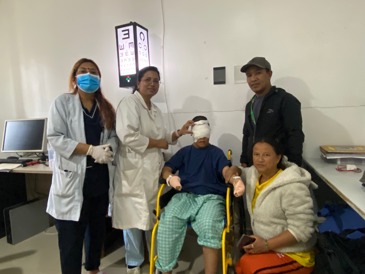 Nepal is a small (147,000 km²), landlocked country in Asia known for its diverse culture, stunning mountain ranges, and rich history. Most of Nepal's roughly 30 million people live in rural and remote areas and do not have easy access to healthcare services, including eye care. Several other factors are making this problem worse, including a shortage of medical specialists in rural areas, a lack of basic supplies, and financial and cultural barriers.
Some charitable organisations are partnering with healthcare institutions in Nepal to expand access to medical care for these rural populations. For example, the Ridley Eye Foundation (REF), established in 1967 by the pioneer ophthalmologist who invented intraocular lens surgery, is providing free cataract surgery in the remote Nepalese communities along the Himalayan Range.
As much as 80% of preventable blindness in the mountainous areas of Nepal is due to cataracts, but access to cataract surgery is difficult in remote, high-altitude communities.1 Additional challenges to cataract surgery are the medical cost, the loss of earnings while travelling, and a lack of public information on its availability.
Salambu field camp
Dhulikhel Hospital is an independent, non-profit institution conceived as a cost-effective and compassionate provider of quality healthcare services in remote areas. Dhulikhel has been operating 17 outreach centres that provide 24-hour services through its staff, who reside in the centres as part of their communities.
In February 2023, with the generous support of ESCRS, the REF partnered with Dhulikhel Hospital to establish a field surgical camp at Salambu in the Bagmati Province in the foothills of the Himalayas northeast of Kathmandu. The Salambu camp triaged 277 patients and operated on 38 of them.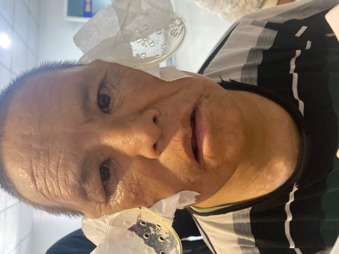 One of the patients was Mr Hom Bahudur Gur ung, a 44-year-old man born with Down syndrome. Deaf and barely able to speak, he was raised by his brother and sister-in-law. He never attended school; over time, he slowly became less active and could only walk by supporting himself on walls.
Hom Bahudur was brought to Salambu by his brother and sister-in-law. At presentation, his vision was only a perception of light in both eyes. He had bilateral white mature cataracts. A B-scan of both eyes was normal. After preoperative evaluation, he was scheduled for cataract surgery under general anaesthesia (GA), as he was very reluctant to leave his guardians to go to the operating theatre.
Bilateral small incision cataract surgery (SICS) was performed. After the surgery, his hands were tied with elastoplast because he was trying to remove his eye guards and bandages and rub his eye. When his eye guards and bandages were removed the next day, he went up to a mirror and saw himself. The smile on his face was priceless.
A week later at his postoperative follow-up, we couldn't get his exact visual acuity, but he could now walk comfortably and even dance with happiness. He then went to the window and was clearly looking to find his house amongst the hills surrounding Dhulikhel.
Our work with REF has allowed us to take surgery to patients like Hom Bahudur rather than forcing them to travel to the hospital for surgery. We are proud of our partnership with REF—and through our skill and their encouragement, we are at long last able to reach the unreachable in the remote and impoverished communities of the Himalayas.
We are hugely grateful to the ESCRS for their support of this camp. The camp could not have been established otherwise, and 277 people would have remained blind or become blind—a result that would have been wholly preventable.
For citation notes, see page 54.
Dr Shrestha is senior ophthalmic surgeon at Dhulikhel Community Hospital in Nepal.
Latest Articles
;