;
Leadership, Business & Innovation
ESCRS Launches Leadership and Business Innovation Weekends
Frankfurt programme will feature interactive education on leadership and finance.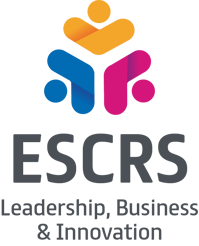 The ESCRS Leadership and Business Innovation weekend programme returns—this year, in Frankfurt, Germany, on Saturday and Sunday, 7 and 8 October 2023. The two-day programme will focus on Leadership and Finance, delivered by keynote ESCRS speakers and leading business innovation consultants.
"This will be a unique learning opportunity for ophthalmologists," said Dr Paul Rosen, Chairperson of the ESCRS Leadership and Business Innovation Committee. The weekend is the first of a series the committee plans through 2024.
The Saturday session will be devoted to "Principles of Leadership and Innovation for Ophthalmologists." The second session on Sunday will discuss "Practical Tools for Ophthalmologists in Planning and Managing Financial Resources and Creating Value." Both sessions will feature a combination of keynote lectures on these topics and practical exercises for delegates to help them put their learning into practice.
"On the first day, we will examine the skills needed for ophthalmologists who wish to become leaders and innovators in their public and private practices. Among the topics we will discuss are leadership values and leadership culture, leadership and innovation from concept to implementation, and avoiding physician burnout," Dr Rosen said. The Sunday session will focus on finance, discussing cost management, raising funds, preparing business plans, and market analysis and segmentation.
"All ophthalmologists are very skilled clinicians," said Dr Rosen, "but they will face challenges in dealing with the complex issues of leading teams in private and public practice. We need to learn how to be creative in our day-to-day work, as in the future, telehealth and artificial intelligence will profoundly affect every aspect of ophthalmic practice."
Expert faculty
The Frankfurt programme facilitators are Dr Karl Thomas and Mr Matt Jensen. Dr Thomas, based in Dublin, Ireland, has acted as a mentor at various innovation and entrepreneurship events. He also provides coaching support to startups and business leaders, focusing on developing people who think differently in the field of innovation and creating future leaders who understand the value of communication, collaboration, critical thinking, and creative problem solving.
Matt Jensen is the principal and founder of Matt Jensen Marketing. Mr Jensen was previously CEO at Vance Thompson Vision in Sioux Falls, South Dakota, US. He now runs his own marketing and communications firm with extensive expertise in eye care. He is also an international speaker on customer experience design in business and healthcare.
The ESCRS faculty includes Professor John Marshall, Drs Paul Rosen, Daniel Kook, Artemis Matsou, Arthur Cummings, David Lockington, and Ms Celine Reibel, who will show how they have successfully led teams in their public and private practices and introduced innovative ideas into these practices.
Registration for the weekend at the Hilton Frankfurt Hotel costs €750. Early registration is advised, as the course is limited to 30 delegates.
For further details, visit the website.
Latest Articles
;