;
Cataract, Refractive
ESCRS Academy in Slovenia
Sessions at the 14th Slovenian Congress of Ophthalmology feature thought-provoking topics.
Sathish Srinivasan
Published: Monday, October 2, 2023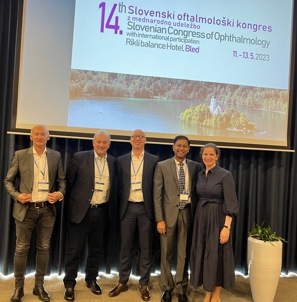 The ESCRS has a tradition of offering educational ESCRS Academy programmes in support of national and sister societies during their regional conferences. ESCRS Committee members attend and present on key topics of interest.
Prof Oliver Findl, Prof Paul Rosen, Prof Sathish Srinivasan, Dr Vladimir Pfeifer, and Dr Alja Črnej were all part of the ESCRS Academy at the 14th Slovenian Congress of Ophthalmology at the very scenic resort town of Bled, Slovenia, in July.
Prof Findl opened the session by highlighting the ESCRS's many educational activities, including the ESCRS Academy, the ESCRS travelling simulator programme, and the ESCRS charity initiative.
This was followed by a lecture on immediate sequential bilateral cataract surgery (ISBCS) by Prof Sathish Srinivasan, who provided the evidence showing ISBCS is as safe and effective as delayed sequential bilateral cataract surgery (DSBCS). He shared published data on the cost-effectiveness of ISBCS over DSBCS and shared evidence on how and why ISBCS is catching up and becoming more popular in Europe compared to the US.
Next, Prof Paul Rosen gave a lecture on managing postoperative refractive surprises. His very comprehensive lecture detailed all the issues with IOL power calculation, human errors, abnormal eyes, and algorithms on management strategies, including spectacle correction, contact lens, laser vision correction, and IOL exchange.
Local Slovenian expert Dr Alja Črnej shared lots of surgical pearls and videos illustrating several techniques of IOL exchange of single-piece and three-piece IOLs.
Dr Vladimir Pfeifer, one of the local organisers of the congress, spoke very eloquently on surgical techniques of secondary IOL implantation with the Yamane flanged IOL technique. He illustrated the different variations using real life surgical videos, highlighting the advantages and pitfalls of this particular procedure.
Prof Findl closed the session with a compelling talk on reducing waste in the operating room. He detailed how different manufacturers have varied specifications for making cataract surgical packs and how harmonising this could lead to a massive reduction in the waste and carbon footprint generated by cataract surgeons.
Overall, it was a very enjoyable and thought-provoking meeting in a stunning location of Lake Bled. Although the weather could have been a little kinder to us, the camaraderie and hospitality shown by our Slovenian colleagues easily generated the required warmth and good feelings.
Prof Sathish Srinivasan FRCSEd, FRCOphth, FACS is a consultant corneal surgeon at University Hospital Ayr, Ayr, Scotland, and Professor of Health and Life Sciences at the University of West of Scotland, UK. He is also the Associate Editor of the JCRS.
Latest Articles
;