;
Correcting Presbyopia with a Collagen Corneal Inlay
Novel biosynthetic collagen microlens demonstrates efficacy and biocompatibility in 12-month clinical trial. Cheryl Guttman Krader reports.
A biosynthetic corneal inlay (CorVision, LinkoCare) offers a safe and reversible approach for presbyopia correction that overcomes the biocompatibility problems of previous inlays and the drawbacks of other surgical methods, said Pavel Stodůlka MD, PhD.
Dr Stodůlka presented results from 12 months of follow-up in a clinical trial, adding the inlay was expected to receive the CE mark no later than 2024.
The device is a microlens made of a medical grade, type I collagen originally developed for an artificial cornea with a 10-year history of clinical use in human eyes. The microlens has a central
thickness of 20 to 30 μm, a diameter of 1.8 to 3.0 mm, and is implanted in a pocket in the non-dominant eye, centred over the Purkinje reflex. The surgeon creates the pocket using a femtosecond laser at a depth of 140 to 220 μm and up to a 6.0 mm diameter.
"The material is porous, so it biointegrates with the corneal collagen. Therefore, we do not see any longterm problems with the cornea or the interface," Dr Stodůlka said. "Of course, a femtosecond laser is needed to create the pocket with precision, but the surgery for implantation is very straightforward, and the inlay is easier to manipulate than others on the market."
The clinical study enrolled 110 patients aged 40 to 65 years with "healthy emmetropic presbyopic eyes". To be eligible for participation, patients had to have a near addition of +1.25 D to +3.50
D, spherical equivalent (SE) -0.75 D to +1.50 D and cylinder less than or equal to 1.5 D in the non-dominant eye, and CDVA greater than or equal to 0.7 logMAR in both eyes. Patients with a central corneal thickness less than 470 μm, curvature greater than or equal to 50 D, or pathology that could affect the outcome were excluded.
Of the 110 patients, 106 were evaluated at 12 months. Two patients were lost to follow-up, and the inlay was explanted in two other patients unable to adapt to the induced monovision.
Presenting a slide depicting a mathematical summation of Scheimpflug imaging maps from the 106 eyes, Dr Stodůlka explained the implanted device creates a central steepening of the cornea and increases its refractive power by inducing spherical aberration.
"Although the central corneal curvature changed by an average of 3.0 D in the centre, the change in curvature decreases away from the centre because of the spherical aberration. Mean manifest refraction SE changed only from +0.25 D to about -1.25 D," he said.
SIGNIFICANT NEAR VISION GAINS
Near vision testing using ETDRS charts showed all patients could read J1 uncorrected at 40 cm with the implanted eye. The results were even better in testing at optimal reading distance, which averaged 36 cm for the group. At 12 months, mean logMAR uncorrected near visual acuity (UNVA) was 0.16 at 40 cm and 0.13 at optimal reading distance.
"Monocular uncorrected distance vision for the implanted eye decreased as expected, but corrected distance visual acuity was almost unchanged at just below 0.0 logMAR," said Dr Stodůlka.
"In binocular testing, which is what matters in real life, uncorrected distance visual acuity was unchanged, and UNVA improved by an average of three lines—from logMAR 0.46 preoperatively to logMAR 0.14 at 12 months."
Patient satisfaction at 12 months was very high, with 94% of patients saying the surgery met their expectations and 96.5% agreeing they would recommend the surgery to family and friends.
"Even though we induce monovision with this inlay, these patient survey results show it is an acceptable way to surgically treat presbyopia," Dr Stodůlka said. OCT images obtained during follow-up showed the inlay maintained its transparency.
"The device could hardly be detected, even on the best OCT," he added.
Adverse events during the study included transient increase in IOP in nine eyes—deemed a steroid response to the tobramycin-dexamethasone drops used postoperatively.
Additionally, four patients experienced disturbing photic phenomenon, there were two cases of dry eye, and mild corneal pocket haze was visible at the slit-lamp in two eyes but was not bothersome to the patients.
The experience with inlay explantation showed it as straightforward and demonstrated its reversibility.
"Despite studies showing fibroblasts and nerves go through the inlay, vessels do not, and the removal was easy, which was required in two patients who did not adapt for monovision. In addition, while removing other corneal implants leads to haze, haze did not develop in these eyes, and the cornea more or less returned to its original shape." Dr Stodůlka spoke during the ESCRS Symposium at the 2022 AAO Refractive Surgery Subspecialty Day meeting in Chicago, US.
Pavel Stodůlka MD, PhD, FEBOS-CR is the CEO of the Gemini Eye Clinics, Zlin and Prague, Czech Republic. stodulka@lasik.cz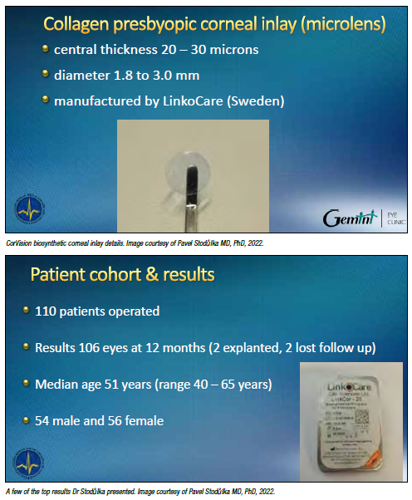 Authors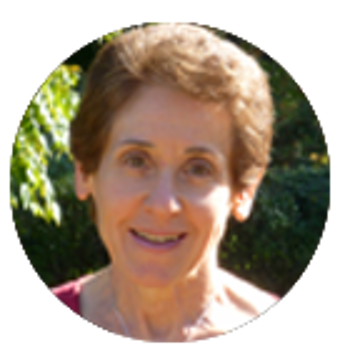 Cheryl Guttman Krader
Published
Thursday, December 1, 2022
Category
Cornea, Presbyopia
Tags
corneal inlays
;