;
Artificial Intelligence
Charting AI's Progression in Ophthalmology
How much of the AI technology is hype and how much is useful? Clare Quigley MD reports.
Clare Quigley
Published: Thursday, December 1, 2022
Artificial Intelligence is in our clinics and here to stay. The quiet incorporation of AI—in biometry formulas and glaucoma progression software (among other applications)—is more humdrum than what may have been first contemplated by ophthalmologists. Smart slit lamps that diagnose ocular pathology and generate treatment algorithms have not come into being. Yet this current era has been described as the Fourth Industrial Revolution (4IR), conceptualised as a rapid advancement in technology due to interconnectivity and smart automation by Klaus Schwab, Chairman of the World Economic Forum.
Whether we subscribe to the 4IR or not, significant change that will affect our patients and our work is underway. While the AI revolution within ophthalmology arguably started in medical retina with IDx-DR—a diabetic retinopathy screening tool and the first US FDA-approved technology within the field—current developments will affect the work of cataract and refractive surgeons. Some of the unmet needs AI can help to address, along with common myths and misconceptions and the means to democratise AI research, were explored in the Digital Medicine session at the 40th Congress of the ESCRS in Milan.
AI AND THE FRONT OF THE EYE
Ocular surface disease is a common problem in any gen­eral ophthalmology clinic. Documenting clinical signs such as dry eye, keratitis, and corneal neovascularisation has not been found reproducible, with low agreement between graders. Photography is a useful adjunct for these cases. Apart from daily clinic use, quality corneal photographs are useful in research. Photos of sufficient quality can be labelled and used to train an AI model that could yield further applications, including screening for corneal disease.
"Imaging the front of the eye is always quite challenging. The key point, as you know with research, is to have reproducible data," said Vito Romano MD, FRCOphth, Associate Professor of Ophthalmology at the University of Brescia, Italy.
Technical difficulties arise in imaging the anterior segment. Some difficulties are easier to overcome, such as consistency of the patient's direction of gaze or training photographers to improve lighting and focus. Other difficulties are harder to deal with: standard camera lenses commonly focus on only one structure, such as the iris or cornea. This results in bokeh, that aesthetic feature valued in portrait photography for a professional look, rendered by the presence of out-of-focus parts in an image. But bokeh is undesirable in medical photography of the ocular surface, where we want to see all the detail without the blur.
In a clinical trial, Prof Romano is testing a specially adapted lens (designed by Occyo) that will allow an anterior segment photo of high quality, where the entire cornea is in focus, along with the bulbar conjunctiva, overcoming the bokeh effect. Prof Romano believes the impact of high-quality imaging could be significant in research and daily practice. Workflow in clinic would improve with imaging carried out before the clinician review, and clinics could achieve more consistent care through availability of historic images when reviewing a patient—who may be seeing different clinicians.
More opportunities for audit and research would arise. Prof Romano is also involved in testing the adapted lens on different ectatic ocular surface lesions. Results of the clinical trial evaluating the camera are anticipated in summer 2023.
AI AND THE KERATOCONIC EYE
New developments facilitating earlier keratoconus detection could prove especially useful in the developing world. Nikki Hafezi MAS, IP, ETHZ, Lead of the SBK Project and founding member of the Light for Sight Foundation, Dietikon, Switzerland, suggested taking a Smart Mobile Affordable Reliable Technology (SMART) approach for developing affordable screening tools for low- and middle-income countries (LMICs).
"Now that we have a treatment that can stop keratoconus progression—corneal cross-linking—our challenge is improving our detection of it," Mrs Hafezi said.
Mrs Hafezi cited the outcome of a recent study investigating how many ophthalmologists in a high-income country like Switzerland had access to the most basic Placido-type topographer. The study revealed only 60% of ophthalmologists had direct access, and she surmised countries less affluent than Switzerland likely have far worse access to the expensive equipment. This lack of access risks later diagnosis of keratoconus, a potentially blinding corneal ectasia that early screening can detect and allow for cross-linking to preserve the remaining vision.
Keratoconus screening can be carried out without a topographer using a smartphone-based keratographer (SBK), which is currently at prototype stage. The SBK project aims to make an affordable, portable, and reliable corneal topographer. The prototype device features a lens and a forehead mount attached to a smartphone with an application that captures the images and generates topographical corneal maps.
The estimated end-user cost of less than USD$2,000 would be a fraction of the cost of a standard Placido-based topographer. Furthermore, it can be operated by hand or mounted on a slit lamp and gives a readout similar to a conventional topography machine. "SBK is currently a screening tool, not for making decisions about surgery," Mrs Hafezi said, "but it is already showing great promise."
Future developments include a machine learning approach where the system learns from physician diagnoses—which Mrs Hafezi said should help SBK provide ever-improving automated diagnostic support to users. The team aims to commercialise the device in mid-2024.
LOOKING DEEP INTO THE EYE
What are common myths in AI? Sunny Virmani, Google Product Manager in San Francisco, United States, explored important misconceptions in AI health applications. One myth he examined is more data is all you need for a better AI-generated model. Not so straightforward.
"You need not just quantity, but quality," Mr Virmani said. "Another myth: an accurate model is all you need for a useful product. A product must be useable in real-world settings."
What can be revealed by a photo of an eye? Not a fundus photo, an external photograph? Mr Virmani presented exciting data from an article published in a 2022 issue of Nature Biomedical Engineering.i
That study investigated external eye photos for detecting disease. It included a large sample: a training set of more than 140,000 patients with diabetes and a validation sample of more than 40,000 patients with diabetes. A fundus camera captured the external photographs, which trained a deep-learning model that accurately predicted diabetic retinopathy, diabetic macular oedema, and poor glucose control. The prediction performed better than logistic regression models using demographic and medical history data. It is unknown whether other cameras will replicate the results, Mr Virmani said.
AI IN THE EYE CLINIC If ophthalmologists want to carry out research in AI, do we need to learn how to code? Short answer, no. Pearse Keane MD— Consultant Ophthalmologist, Moorfields Eye Hospital, London, United Kingdom, and Professor of Artificial Medical Intelligence at University College London, United Kingdom—showed alterna­tive, democratic approaches.
"Clinicians will play an important role in the next phase," Dr Keane said. He believes upcoming developments in AI will be led by those who have the best ideas for clinical applications. And there is a need to make ophthalmology services as throughput and lean as possible.
"Nearly 10% of all clinical appointments in the NHS are for eyes. We have standing room only a lot of the time in our clinics," Dr Keane said. "AI can play at least some role in mitigating these challenges."
When asked how he would see AI changing general ophthalmologists' practice, Dr Keane said one of the biggest areas of improvement is where it can provide specialised expertise to non-experts.
"I think it will be much more challenging for AI systems to improve the skills of clinicians who are already highly specialised," he said. "In helping non-experts in this way, I think it could have transformative benefits in medical education. […] Imagine how much more quickly medical students and junior doctors could learn if they had large data sets and a world-leading AI system to help guide them! This might be similar to how chess players increasingly train using computer software."
Dr Keane has published code-free AI studies, revealing research in the area may be more accessible than most realise.
"I think code-free deep learning is one of the most exciting areas," he said, recommending the 2021 Nature Machine Intelligence article for those interested in developing their own imaging AI.ii "This describes most of the main CFDL platforms."
Researchers can access different tools, including an AI short course Dr Keane will run in 2023 focused on this topic.
AI IN THE METAVERSE
Ranya Habash MD, Consultant Ophthalmologist, Bascom Palmer Eye Institute and Stanford University, United States, brought the discussion out of this world and into the realm of the metaverse.
"AI and ML in predictive analytics are integral for digital twinning and precision medicine," Dr Habash said. "This is augmented intelligence, and the metaverse adds another dimension by combining AI, telepresence, and extended reality. There is incredible potential for precision health, decentralised clinical trials, connected care, e-commerce, surgical navigation, and—of course—medical education.
"For example, we've created an art gallery," she continued, "but for eyeballs. Our gallery showcases 3D surgical techniques for eye surgery."
Dr Habash showed videos of an immersive technology where participants can explore a bright art gallery with framed high-quality 3D videos of retina surgeries, screens within screens. She sees applications for surgical education and training, including conferences, grand rounds, and mentoring. All this takes place in the metaverse, an augmented reality that combines aspects of the digital and physical worlds. This harkens back to the AI of our imagination and will educate future generations of medical students and ophthalmology residents.
i Babenko B, et al. "Detection of signs of disease in external photographs of the eyes via deep learning", Nat. Biomed. Eng, 2022. https://doi.org/10.1038/ s41551-022-00867-5
ii Korot E. et al. "Code-free deep learning for multi-modality medical image classification", Nat. Mach. Intell, 3, 288–298 (2021). https://doi.org/10.1038/ s42256-021-00305-2 
Vito Romano: vito.romano@unibs.it
Nikki Hafezi: nhafezi@lightforsight.org
Pearse Keane: p.keane@ucl.ac.uk
Ranya Habash: ranya@habash.net
Sunny Virmani: sunny.virmani@google.com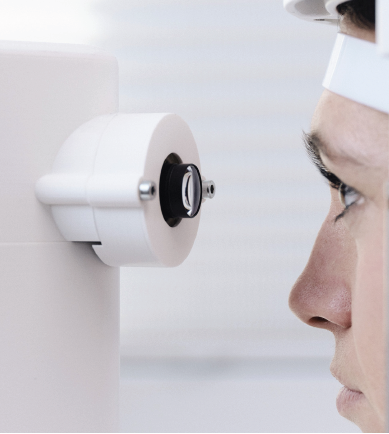 Latest Articles
;