;
Cataract
Cataract Surgery and Pars Plana Vitrectomy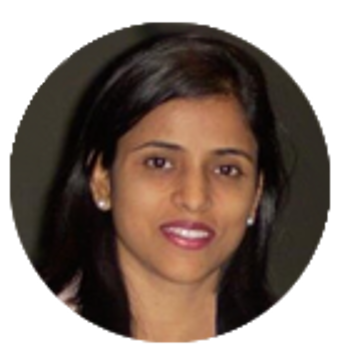 Soosan Jacob
Published: Friday, September 30, 2022
Pars plana vitrectomy (PPV) is indicated in a variety of situations—such as retinal diseases, vitreous opacities, and cataract complications such as dropped lens material. Cataracts can develop after various vitreoretinal (VR) procedures. For instance, macular hole surgery and primary retinal detachment repair may initiate cataract formation, often placing primary phacovitrectomy as a consideration in these cases.
Clarity of the anterior ocular media is important for proper and thorough vitrectomy and retinal procedures such as membrane peeling. For all these reasons, cataracts often must be extracted concurrently with or after VR surgery.
This article discusses what to know when contemplating cataract surgery in patients where PPV is also required.
CATARACT SURGERY COMBINED WITH PPV
Advances in both phacoemulsification and PPV techniques—such as smaller incisions, valved trocars, and transconjunctival sutureless techniques—and better machines and instruments have made combined surgery easier.
When cataract coexists with VR disorders, the decision for primary phacovitrectomy is clear. But with clear lens and retained accommodation, cataract extraction has some disadvantages. However, PPV alone carries disadvantages such as post-PPV cataract, decreased space, and accidental lens touch during peripheral retina manipulation.
Advantages of combined surgery include cost-effectiveness, convenience, and the rapid visual recovery offered by a single procedure. Surgical advantages include the possibility of more anteriorly placed sclerotomies (reducing retinal tear risk), complete vitrectomy, greater gas fill, and better postoperative tamponade. Decreased risk for macular oedema and post-surgical vitreous traction, complete negation of the risk of vitrectomy-induced cataract with better postoperative clinical and optical coherence tomographic evaluation of retinal disease are other advantages.
BEST CANDIDATES FOR COMBINATION SURGERY
Combined surgery is preferred in patients with risk factors for developing cataract after vitrectomy such as older age, preexisting nuclear sclerosis, and diabetic retinopathy. Patients under consideration of silicone oil or intraocular gas pose this risk too. Even minimal lens opacity can hinder visualisation in certain situations, e.g., posterior hyaloid or membrane peeling. In such cases, phacovitrectomy is preferable.
Aphakic visualisation allows easier and safer surgery and enhances the ease of posterior vitreous peeling and peripheral visualisation. Clinical and surgical experience, nature of available facilities, and type of VR pathology may be used to decide between combined surgery or PPV alone. The challenges of performing cataract extraction in a vitrectomised eye also need consideration during this decision making. A discussion with the patient about the pros and cons is helpful.
In combined surgery, opt to perform cataract extraction before vitrectomy. A poor red reflex in certain pathologies may challenge the surgeon. Better illumination, capsular dyes, and oblique light from the endoilluminator can help complete the rhexis. A history of previous intravitreal injections should raise suspicion for broken posterior capsule. In these situations, femtosecond laser assisted cataract surgery (FLACS) may be useful for performing rhexis and the Vasavada femtodelineation technique—described for managing posterior capsular weakness/defect in posterior polar cataracts—may be used here.
Well-constructed, self-sealing corneal incisions are important, and these should be sutured prior to vitrectomy to avoid iris prolapse while inserting trocars or while indenting the sclera. Avoiding stromal hydration will allow the VR surgeon a clear view. Some other suggested modifications are pre-placed valved trocars and core vitrectomy in eyes with shallow anterior chamber (AC) due to positive vitreous pressure to allow the AC to deepen. As mentioned previously, other surgical modifications include suturing corneal incisions prior to vitrectomy and deferral of IOL placement after vitrectomy completion to allow unhindered visualisation. In the early evolution of phacovitrectomy, the patient was often left aphakic—today, the goal is to get a good refractive outcome, making IOL power calculations important.
Possible postoperative complications include wound leak, increased inflammation, cystoid macular oedema, pseudophakic retinal detachment, silicone oil migration to the AC, IOL calculation errors, and late in-the-bag IOL subluxation. Retinal degeneration may result in complications such as retinal detachment—especially in high-risk patients, such as myopes, where cataract surgery itself is also more challenging. Surgeons should therefore conduct close postoperative retinal examinations. Macular and other retinal pathology may limit postoperative visual acuity despite anatomic success. Expected postoperative visual outcomes should be clearly discussed with patients before surgery to set realistic expectations.
CATARACT EXTRACTION AFTER PPV
PPV and pneumatic retinopexy may cause cataract progression because of gas tamponade, accidental lens touch, hastened nuclear sclerosis, postoperative inflammation, and intravitreal or topical steroids. PPV removes the vitreous sink, enhancing oxygen diffusion from the retinal circulation and resulting in greater oxidative stress to the lens.
Accidental lens touch has been reported in 3.7% of cases and can result in posterior subcapsular cataract, mixed lens opacities, white cataract, or hastened nuclear sclerosis. Cataract surgery has a greater risk of posterior capsular rupture in these cases. Surgeons can identify accidental lens bite during PPV by the rapid development of mature cataract that can result in nucleus drop. Pneumatic retinopexy causes progression of nuclear sclerosis in 95% of eyes after macular hole repair.
LENS-IRIS DIAPHRAGM RETROPULSION SYNDROME AWARENESS
Cataract surgery after PPV is challenging because of low scleral rigidity, greater collapsibility of the eye, absent support from the vitreous body, a deep AC, and fluctuating anterior chamber depth. Reverse pupillary block on initiating irrigation within the eye results in lens-iris diaphragm retropulsion syndrome (LIDRS), sudden pain, and dilatation of the pupil. Avoid these results by lifting the edge of the iris with a second instrument before initiating irrigation, by lowering bottle height, and in severe cases, by initiating irrigation only after introducing the irrigation port under the iris. Iridotomy and iris hooks are other options to avoid its occurrence. Intraoperative LIDRS may be broken mechanically by lifting the iris edge to equalize fluid pressure on either side of the iris.
Vertically placed instruments, poorly dilating pupils, fragile capsular bags, zonular dialysis, and fluid misdirection are other challenges possible in vitrectomised eyes. Early cataract extraction may therefore be preferred while the nucleus is still soft. For soft nuclei, prolapse and supracapsular phacoemulsification are easier than in-the-bag nuclear disassembly. For denser nuclei, horizontal chopping exerts least stress on the bag and zonules. Tangential cortex aspiration avoids zonular stress.
Newer phacoemulsification machines with active fluidics help maintain a stable AC depth. AC fluctuations can increase the risk of retinal re-detachment. To avoid them, inject viscoelastic with the non-dominant hand before withdrawing the phacoemulsification or I/A probe. A slightly higher powered IOL may be necessary because of the posteriorly displaced bag.
If there is suspicion of a broken posterior capsule from previous retinal interventions, a well-centred and adequately sized rhexis can provide for optic capture. This allows surgeons to avoid hydrodissection and nucleus rotation, with only hydrodelineation performed to retain a protective epinuclear shell. Viscodispersive OVD is used to tamponade the vitreous, followed by gentle slow-motion phaco. Surgeons should opt for bimanual cortex aspiration towards the rent to avoid capsular stress, as capsular bag status will determine IOL placement. As described previously, FLACS may be another option in this situation.
IOL choices in these eyes have been discussed in the May 2022 issue of EuroTimes.
Dr Soosan Jacob is Director and Chief of Dr Agarwal's Refractive and Cornea Foundation at Dr Agarwal's Eye Hospital, Chennai, India, and can be reached at dr_soosanj@hotmail.com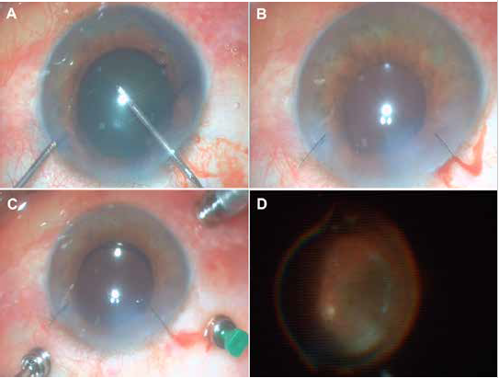 Latest Articles
;