;
Big Data Can Provide Crucial Evidence
IRIS Registry proves to be a multipurpose research tool for improving clinical practice
The risk of developing endophthalmitis after anti-VEGF injections for age-related macular degeneration does not appear significantly greater with bevacizumab than with ranibizumab or aflibercept. We know this thanks to big data.
Very large clinical data sets collected from thousands of ophthalmology practices make possible not only studies of rare diseases and events but trends over time, said Dr Flora Lum, who oversees the American Academy of Ophthalmology's Intelligent Research in Sight (IRIS®) Registry. It is useful for examining practice patterns, reporting and improving quality at individual practices, and advancing scientific discovery.
Launched in 2014, the IRIS Registry now includes electronic health record data from close to 500 million visits by more than 75 million patients in the United States, making it the largest depository of ophthalmology practice data in the world.
"We collect [data on] every patient on every disease condition, and we have a majority of ophthalmologists in the IRIS Registry," Dr Lum said. "And we can look longitudinally because we have unique patient ID numbers and about one decade's worth of information."
Change over time
Because it receives electronic data directly from electronic health records used by more than 12,000 ophthalmologists, the IRIS Registry can track practice trends in real time. For example, at the start of the COVID-19 pandemic in March 2020, the IRIS Registry showed a precipitous drop in patient visits by all ophthalmologists, though non-retina specialists showed a much larger drop than retina specialists.
Since it tracks such a large population, the IRIS Registry is suitable for studying rare diseases. It estimated 40,000 cases of myopic choroidal neovascularization, documenting it as a rare disease for US Food and Drug Administration (FDA) treatment regulations.
The IRIS Registry helped determine whether cataract surgery is associated with a decrease in central retinal vein occlusion, Dr Lum said. "We weren't able to find a decrease but were able to look at this with minimal cost and time."
A study of anti-VEGF use by type of insurance, whether public or private, found significant differences, leading to additional questions—including reasons for the differences and whether they lead to differences in clinical outcomes and costs of care that may be answered, in part, by registry data, Dr Lum said.
Adverse events also can be tracked. One IRIS Registry study helped characterize the incidence of uveitis associated with patients taking various checkpoint inhibitors used in cancer treatment, Dr Lum said, adding such studies can have a direct impact on clinical practice.
Another adverse event, an outbreak of infections associated with repackaged bevacizumab, led to a call to ban the practice. "In a couple of days, we were able to amass the data in the IRIS Registry, and we showed there was no difference in endophthalmitis rates across the three agents," she said. As a result, there was no ban.
"Because we can measure more precisely, we can manage better. We can select more effective interventions based on real-world big data now," Dr Lum concluded.
Dr Lum spoke at the inaugural iNovation symposium at the 40th Congress of the ESCRS in Milan.
Flora Lum MD is vice president, quality and data science, at the American Academy of Ophthalmology. flum@aao.org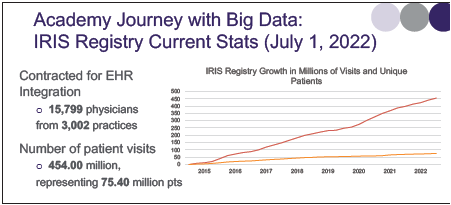 Authors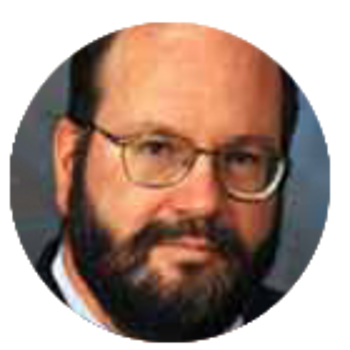 Howard Larkin
Published
Saturday, April 1, 2023
Category
Cataract and Refractive Articles
;