;
Glaucoma
AI on the horizon for glaucoma patient care
Artificial intelligence (AI) in glaucoma has great potential and will become important for patient care in the future, but it is still not ready for clinical application, said Marta Pazos, MD, at the ESCRS Glaucoma Day.
"AI is no longer a futuristic thing. It is already here, and there are many publications demonstrating its use for glaucoma detection and management," Dr Pazos said. "But the 5th edition of the European Glaucoma Society guidelines states that we should not base our clinical decisions on AI only. That is because there are several challenges that need to be solved."
The opportunities that AI can bring to glaucoma include automating glaucoma detection, aiding with clinical decisions, and predictive analysis (personalised medicine).
Automated glaucoma detection has applicability for virtual clinics that can reach underserved areas, provide telehealth visits, and be used in primary care to improve patient triaging. For decision support, AI will be used by clinicians in their electronic health systems, where it can flag areas to look at more carefully or raise alerts that a patient may be showing signs of progression.
Predictive analytics takes advantage of the huge amounts of available data to guide more precise management and treatment for patients, Dr Pazos said.
"We are moving more from evidence-based medicine to precision medicine to personalised medicine, where we will base our treatment and management decisions on real-world data, not on artificial data that come from clinical trials, which have strict inclusion criteria and that lead to a one-size fits all approach," she said. "Using AI tools will help us to give a more individualised approach. The predictive analytics branch will help with risk assessment and profiling, so you will know what test to do for which patient and at what frequency."
Data sources for AI in glaucoma are numerous and include retinal photographs, visual fields, OCT and OCT angiography, electronic health records, genomics, and public data sets.
"And we know that when you use a multimodal approach, your results are much better," said Dr Pazos.
AI research in glaucoma has expanded in recent years and has demonstrated performance for disease detection and predicting progression. The barriers to its implementation, however, are that AI algorithms are often built and validated in a small number of centres with very specific instruments.
Therefore, the algorithms may not be representative. In addition, the available data are heterogeneous, there is a lack of structured databases, and there is huge diversity across European healthcare systems.
The main barrier, however, is a problem of trust.
"There are potential risk and ethical and legal implications, and many stakeholders perceive AI algorithms as opaque and difficult to understand," said Dr Pazos.
Attention to data quality, data ownership, and generalisability can improve AI trustworthiness, she stressed.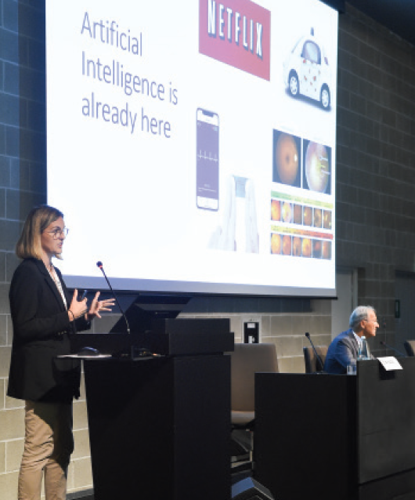 Latest Articles
;